IJM posts 72% rise in annual net profit, declares higher dividend
Key figures

(in RM'000)

4Q FY2021

4Q FY2020

Change

FY2021

FY2020

Change

Revenue

1,601,134

2,046,953

(21.8%)

5,622,870

6,605,101

 (14.9%)

Profit before tax (PBT)

246,192

96,566

154.9%

779,555

517,765

50.6%

Profit after tax & MI (PATMI)

186,393

71,297

161.4%

431,678

250,590

72.3%

Basic earnings per share (sen)

5.14

1.96

162.2%

11.91

6.91

72.4%
Key highlights:
Commendable financial performance for FY2021 despite uncertainties and operational disruptions from movement control restrictions

RM1.5 billion of construction order book wins in FY2021, in addition to two contracts secured in April 2021 amounting to RM327.6 million, provide near term earnings visibility

Robust property sales of RM1.7 billion in FY2021

Highest ever revenue and earnings recorded by the Plantation Division

Fundamentals remain strong with healthy net gearing ratio of 44.0%

Total dividends for FY2021 at 6 sen per share (FY2020: 3 sen)
Petaling Jaya, 27 May 2021 – IJM Corporation Berhad (IJM) today released its financial results for the year ended 31 March 2021 (FY2021). During the year, various movement control orders that were implemented had an adverse impact on the Group's businesses. As a result, lower operating revenues were posted for the current quarter and year at RM1,601.1 million and RM5,622.9 million respectively, a decrease of 21.8% and 14.9% compared to the preceding year's corresponding quarter and year respectively. Despite the lower revenue, the Group's pre-tax profits for the current quarter and year were higher at RM246.2 million and RM779.6 million respectively, mainly due to higher profit contribution from the Group's Plantation Division. This represents an increase of 154.9% and 50.6% compared to the preceding year's corresponding quarter and year respectively.
CEO & Managing Director of IJM, Mr Liew Hau Seng, explained: "The Group's performance was affected due to numerous movement control measures imposed by the government to contain the spread of the Covid-19 virus. Our businesses saw varying degrees of constraints during the year while there was notably lower traffic volume at the Group's toll roads during certain periods of movement restrictions."
Although the Group's construction sites were able to operate for most of the year, full year revenue of the Construction Division decreased by 5.1% to RM1,947.9 million compared to RM2,051.8 million last year due to the above mentioned operational disruptions. PBT for the year decreased by 20.5% to RM137.7 million compared to RM173.2 million achieved in the previous year mainly due to lower construction activities during the movement control periods and share of losses from an associate.
The Property Division reported revenue of RM1,296.8 million in FY2021, 40.8% lower than RM2,189.5 million registered last year mainly due to lower work progress during the movement control order periods and the absence of contribution from the Royal Mint Gardens, London project that was completed in the previous financial year. Correspondingly, the Division reported a 13.2% decrease in PBT to RM176.5 million this year compared to RM203.3 million a year ago.
FY2021 revenue of the Industry Division decreased by 16.7% to RM691.0 million from RM829.5 million recorded last year mainly due to lower deliveries of piles, quarry products and ready-mixed concrete in line with the lower level of construction activities. However, PBT for the year was 51.9% higher at RM68.2 million compared to RM44.9 million in the previous year, mainly arising from gains on disposal of the Division's operations in China and certain property, plant and equipment.
Revenue of the Infrastructure Division for the year decreased by 5.4% to RM751.0 million from RM974.2 million mainly due to the decrease in local traffic volume during the movement control order periods although the decrease was partly mitigated by the higher cargo throughput handled by the Group's Kuantan Port operations. The Division reported a PBT of RM117.1 million for the year, a 23.6% decrease compared to RM153.2 million in FY2020. This was mainly due to the lower local traffic volume recorded despite the higher profit contribution from the Group's Kuantan Port operations.
The Plantation Division reported a 26.6% increase in revenue for the year to RM935.7 million from RM739.1 million last year mainly due to higher commodity prices and higher production volume. Despite challenging operating conditions due to the Covid-19 pandemic and adverse weather conditions during the year, the combined crop production of the Malaysian and Indonesian operations was marginally higher and totalled above 1 million metric tons for the second consecutive year. During the year, the Division recorded a net foreign exchange gain of RM82.4 million compared to a loss in the preceding year of RM87.1 million on its foreign currency denominated borrowings as the Indonesian Rupiah strengthened against both the US Dollar and the Japanese Yen. The higher commodity prices and higher production volume coupled with the favourable currency movements contributed to the 639.2% improvement in pre-tax profit for the year of RM272.1 million compared to a loss before tax of RM50.5 million the year before. The Division's stellar financial performance in FY2021 marks its best ever revenue and profit achieved since its inception in 1985.
The Group expects a gradual recovery in the business landscape, arising from the efforts of the Malaysian Government to revitalise the economy through an expansionary Budget for 2021 and the rollout of Covid-19 vaccine. The Group reiterated its strategy of building resilience to address the short-term economic uncertainties through cost containment, aggressive paring down of property inventory and low yielding assets as well as proactive capital management, while looking for growth opportunities via participation in large infrastructure project tenders, continuing with the launches of its well-received mid-range property products and capitalising on the growth potential of Kuantan Port.
The Group's fundamentals remain solid and its healthy balance sheet with a net gearing of 44.0% is expected to provide resilience as the Group navigates the uncertain business environment.
"At end-March 2021, we have a healthy outstanding construction order book of RM4.0 billion that comprises a good mix of private and public sector projects, providing the Group with good earnings visibility over the next few years. In addition, the Group has secured two contracts in April 2021 – an RM89.8 million contract for the construction of infrastructure building and public realms works at Tun Razak Exchange (TRX), Kuala Lumpur, and another contract worth RM237.8 million for the construction of the Mezzo residential tower at The Light City, Penang. Both projects mark successive job wins where IJM is currently undertaking high profile construction activities – ongoing work at TRX include the recently completed HSBC Malaysia and Affin Bank new headquarters as well as TRX Residences while the Mezzo is IJM's third contract at The Light City. These projects allow us to demonstrate our construction capabilities as a builder of choice in the city centre as well as our ability to introduce vibrant integrated property offerings to the market," he added.
On the Group's Property Division, Mr Liew said: "Robust property sales of RM1.7 billion in FY2021 underscores the healthy demand in the mid-segment market. Despite the ongoing pandemic, we registered sales of RM600 million in the final quarter on the back of encouraging take-up of mid-range properties." IJM Land's new launches in the quarter were Bandar Rimbayu's Starling double storey terraces (phase 12D), consisting of 183 units with a gross development value (GDV) of RM140 million, Duta Perintis at Shah Alam 2, a 316 unit condominium with a GDV of RM100 million, The Terraces condominium at Bukit Jambul, Penang, consisting of 410 units with a GDV of RM200 million and phase 1D of Rimbayu Indah, Sandakan, consisting of 57 double storey terraces with a GDV of RM30 million.
"Despite disruptions in global trade brought on by the Covid-19 pandemic, Kuantan Port continues to chalk up year-on-year growth in cargo throughput volume." On the Port's longer term prospects, Mr Liew added: "The opportunities for Kuantan Port are sizeable and the expansion of Phase 1 of the New Deep Water Terminal has been very timely to capture the incoming growth from the Malaysia China Kuantan Industrial Park (MCKIP). As we continue to see interest from new FDIs into MCKIP, coupled with the Government's commitment to supporting infrastructure development in the area, predominantly through the ECRL project, we are confident that Kuantan Port will play a pivotal role as a catalyst to the economic development in the East Coast region."
"With Covid-19 cases on the rise again, our focus remains the health and safety of our employees, while ensuring SOPs at our work sites are strictly adhered to. Despite the headwinds, we are pleased that we were able to continue our track record of delivering solid financial results while maintaining a resilient balance sheet. We are confident that we are well-positioned to financially and strategically emerge stronger from the crisis."
Following the results, the Company declared a single tier second interim dividend of 4 sen per share. Coupled with the single tier first interim dividend of 2 sen per share declared in 2Q FY2021, the total dividend declared for FY2021 amounts to 6 sen per share. FY2020 total dividend declared was 3 sen per share.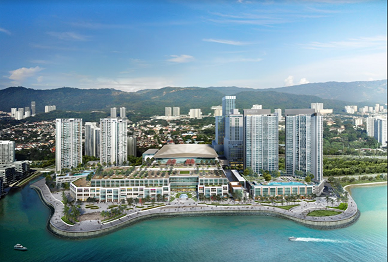 Developed by IJM Perennial Development Sdn. Bhd. –- a joint venture between IJM and Perennial – The Light City, Penang is envisioned as a world-class integrated mixed-used waterfront precinct.
- end -
About IJM Corporation Berhad
IJM Corporation Berhad ("IJM"), formed in 1983, is today one of Malaysia's leading construction groups and is listed on Bursa Malaysia. Its business activities encompass construction, property development, manufacturing and quarrying, infrastructure concessions and plantations.
Headquartered in Selangor, its operations are located in 8 countries, with primary focus in Malaysia, India and Indonesia. The Group presently has a market capitalisation of around RM6.3 billion and as of March 2021, the Group employed around 4,100 employees and had total assets of RM23.5 billion.
The Group's belief in a shared destiny with its employees remains pivotal to its growing success while its reputation for professionalism, performance and good governance is acknowledged by customers and investors alike from its numerous corporate and industry accolades. IJM is committed to ethical business conduct and subscribes to the principles of good corporate citizenship for sustainable growth and development.
For more information, visit www.ijm.com
For media enquiries, please contact:
Ms. Mandy Chen, Corporate Communications, at mandychen@ijm.com or + 60 12 607 6121
Mr. Shane Guha Thakurta, Investor Relations, at shanethakurta@ijm.com or + 60 3 7985 8041