Explore our milestones and see how it all began
IJM began as a daring dream of a group of civil engineers who were ahead of their time. The result of a merger between three medium-sized local construction companies – IGB Construction Sdn Bhd, Jurutama Sdn Bhd and Mudajaya Sdn Bhd, IJM was formed in 1983 to compete as equals with well-capitalised foreign players who had entered the growing Malaysian construction industry. 
In 2008, IJM acquired the Road Builder Group to augment its position as one of the country's biggest builders. 
IJM now celebrates 35 years of a winning game, with a footprint that has grown across the world. It has gained recognition as a reputable Malaysian conglomerate delivering the promise of inspired solutions to its business partners and customers every day.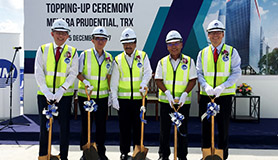 2014 - Present
Building capacity
IJM executed two of its biggest projects in the company's history – West Coast Expressway (RM6 billion) and Kuantan Port's New Deep Water Terminal expansion (RM3 billion)
We secured the largest domestic construction project, Light Rail Transit 3 (RM1.1 billion) and biggest road BOT in India, the Solapur-Bijapur project (RM1.3 billion).
IJM invested in Menara Prudential in TRX, an upcoming KL financial district, to grow its recurring income stream.
Order book at a record high of RM9.41 billion.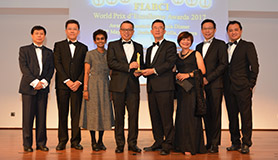 2000 - 2017
Winning awards
1st Malaysian International of the Year Award by Construction Industry Development Board in 2000 and 2005

Malaysian Construction Industry Excellence (International Achievement) Award in 2001, 2006 and 2007

Malaysian Ministry of International Trade & Industry's Excellence Award for Export of Services in 2003 and 2007

Best Managed Malaysian Company by Asia Money in 2006

World Gold Winner of FIABCI World Prix D'Excellence Awards in 2017, Master Plan Category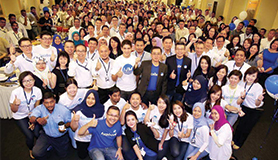 2014 - 2018
Strategic blueprint & innovation
IJM developed its Blue Ocean Strategy roadmap with the aim of creating new market spaces with growth opportunities to elevate business growth and sustainability.
IJM became the 1st public-listed company in Malaysia to be connected via Workplace by Facebook.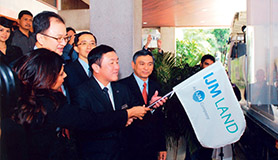 2014
IJM Land goes private
The privatisation exercise strengthened both IJM Land and IJM, enabling the company to leverage IJM's financial standing and resources to undertake larger scale projects in the future.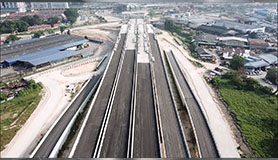 2012 - 2013
Pioneering inroads
Secured the first aboveground Klang Valley Mass Rapid Transit Package.
Associate company, Kumpulan Europlus Bhd, secured the 233km West Coast Expressway concession.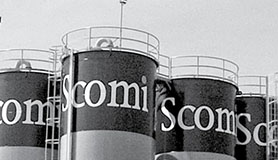 2012
Oil & gas exploration
IJM diversified with the oil & gas sector by acquiring a 25% stake in the Scomi Group, establishing a new revenue stream. This puts IJM in a favourable position to take advantage of the industry's regional prospects and opportunities.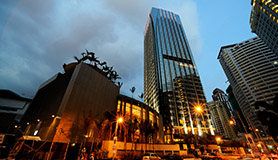 2009
Growth via diversification
Secured major projects including Grand Hyatt Hotel in KL, Electrified Double Track from Seremban to Gemas and the six-laning of the Chilakaluripet-Vijayawada Section in India.
ICP was delisted, becoming a wholly-owned subsidiary.
Commenced oil palm planting in Kalimantan, Indonesia.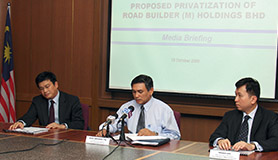 In a high profile merger, IJM acquired the Road Builder Group, its nearest competitor, becoming one of the country's biggest builders.
The merger created a paradigm shift in growth and revenue for IJM's Infrastructure Division, with the addition of four mature infrastructure assets: two toll highways – Besraya and New Pantai Expressway, and two ports – Kuantan Port and Kemaman Port.
Unveiled the prestigious 'The Light' waterfront development in Penang.
Total assets exceeded RM11 billion.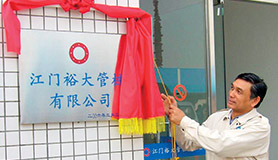 2004 / 2005
The growth continues
ICP became an IJM subsidiary
Secured first Middle East project: Fortune Tower
Awarded the construction of Kajang-Seremban Highway, Menara Commerce and Islamic Art Museum Projects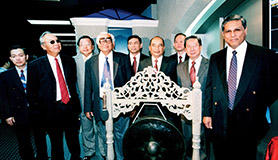 2003
Listing of IJM Plantations Berhad
The stellar listing of IJM Plantations Berhad (IJMP) on Bursa Malaysia's Main Board on July 2, 2003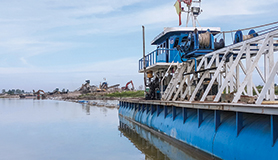 IJM's Industry Division expanded operations with strategic acquisitions and successful market diversifications into China, India and Pakistan
1st sand mine: Bestari Jaya, Selangor was established, with a monthy production capacity of 100,000 tonnes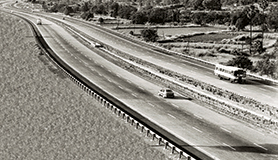 1998 - 2000s
Inspiring India
IJM made inroads into India's development with highway, building and real estate projects in Andhra Pradesh, Tamil Nadu, Madhya Pradesh, Rajasthan, Karnataka, West Bengal, Maharashtra and the municipality of Delhi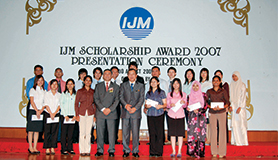 IJM slogan evolved to Excellence through Quality. 

Achieved ISO 9002 certification for the 'Provision of Construction Services in Building and Civil Engineering Works'

Launch of hallmark CSR programmes - IJM Scholarship Programme, Rakan Sukan Programme, Hundred-Acre Wood environmental conservation programme, Home Rehabilitation Programme as well as Give Day Out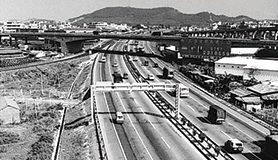 The construction business breached the RM1 billion mark

Construction of major highways and development of landmark property projects such as the 847.7 km North-South Highway, Mid Valley Megamal, KLIA, Purtajaya, the XVI Commonwealth Games Village, Penang International Education and Technology Centre and Seremban 2 satellite township. 

IJM entered Vietnam, Namibia, Argentina, Chile, the Philippines, Myanmar, Mauritius, India and China through MASSCORP - the investment arm of Malaysia South-South Association

Commissioned the first palm oil mill in Sabah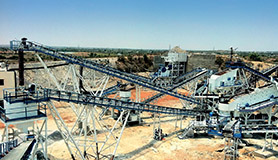 1991
Birth of a new division
In a strategic move to achieve economies of scale and competitive pricing, IJM expanded its manufacturing operations - resulting in the birth of the Quarrying & Manufacturing division with the acquisition of Malaysian Rock Products Sdn Bhd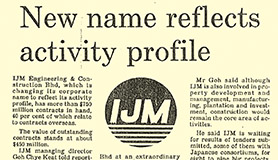 1989
IJM Corporation Berhad was born
Along with the name change came a new corporate logo. IJM became one of the most favoured stocks by foreign institutional investors in the infrastructure and construction-related sector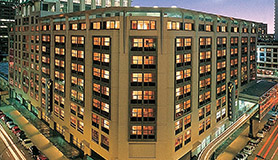 1986 - 1988
Going International
Property development and construction projects in USA, Australia, Hong Kong U.K., Singapore, Pakistan and Bangladesh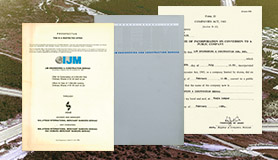 IJM became a public-listed company with a market capitalisation of RM66 million and total assets of RM172 million, heralding a new era of growth, prosperity and opportunities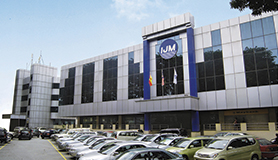 Secured first project in Sydney, Australia and built residential units in Florida, USA

Ventured into oil palm cultivation in Sabah

Acquired Sharidal Complex (now Wisma IJM) in Petaling Jaya which now serves as IJM's head office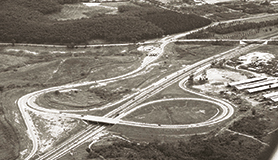 1984 - 1987
Building businesses
1st major contract: Construction of three major interchanges for the KL-Seremban Toll Expressway with a contract value of RM40.2 million

1st corporate acquisition: Pucung Building Products Sdn Bhd (49%) in 1984 for quarry operations

1st international joint venture: IJM Degremont Sdn Bhd was formed with Lyonnaise de Eaux, Degremont SA of France and local bumiputera partners for water projects

1st plantation: Desa Talisai, a 10,000-acre oil palm plantation near Sandakan, Sabah

Manufacturing of building material businesses to improve efficiency and competitiveness

1st few property privatisation projects: PKNS housing development (Selangor) and Batu Lancang Apartments (Penang)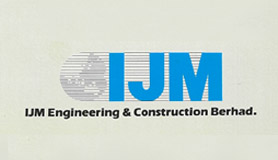 1984
The birth of the IJM name
The company was renamed IJM Engineering and Construction Sdn Bhd - a name that comprises the first initials of the three original companies (IGB, Jurutama and Mudajaya)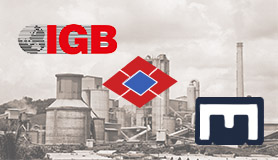 The three companies joined hands and Solidstate Sdn Bhd was incorporated. First motto: 'Big, Strong and Caring'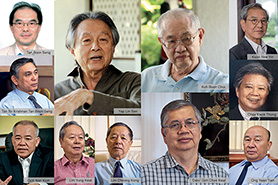 IGB Construction Sdn Bhd, Jurutama Sdn Bhd and Mudajaya Sdn Bhd joined forces to compete equally with well-capitalised foreign players in the growing Malaysian construction industry