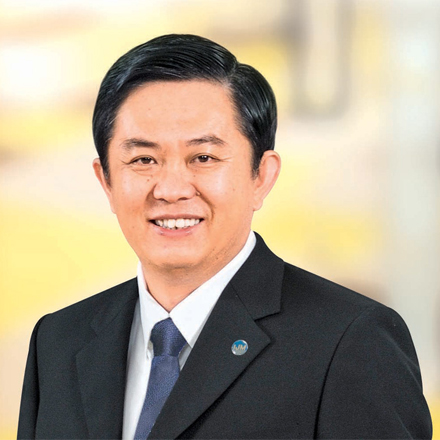 Joseph Tek Choon Yee
B. Sc. (Hons), MPhil. (Cantab)
Chief Executive Officer & Managing Director, IJM Plantations Berhad
Age / Gender
52 / Male
Nationality
Malaysian
Academic / Professional Qualification
Bachelor of Science (1st Class Honours), Universiti Kebangsaan Malaysia

Master in Philosophy (Plant Breeding), Cambridge University, England

ASEAN Senior Management Development Programme, Harvard Business School
Date Appointed / Working Experience
Mr Joseph Tek was appointed Chief Executive Officer & Managing Director ("CEO&MD") of IJM Plantations Berhad ("IJMP") on 23 May 2010.
He joined IJMP in September 2004 to head the research, training and development activities of IJMP Group, and was appointed an Alternate Director on 22 May 2008 and Executive Director on 19 October 2008 besides being the General Manager – Plantations (Sabah). He was then redesignated to the position of Chief Operating Officer & Executive Director on 18 May 2009, prior to his appointment as CEO&MD of IJMP.
Prior to joining IJMP in 2004, he was with Sime Darby Plantations Sdn Bhd as Plant Breeder in Ebor Research (1991-1997), R&D Manager (1997-2000) and later Manager-Agritech Business (2000-2001) with Sime Aerogreen Sdn Bhd and Sime Gardentech Sdn Bhd. His last position was Head of R&D with the Malaysian Palm Oil Association ("MPOA") (2001-2004).
Directorship
Listed Companies:
Other Public Companies:
Other Information
Mr Joseph Tek is a Council member of the Malaysian Estate Owners' Association (MEOA).  He was the President of the MEOA (2015-2018).  He was with the Board of Governors for Montfort Youth Training Centre (MYTC) in Sabah since 2016.  He was a Board member of the Malaysian Palm Oil Board (MPOB) (2016-2018), a member of the Programme Advisory Committee (PAC) of the MPOB (2011-2013), a Council Member of the Malaysian Oil Scientists' and Technologists' Association (MOSTA) (2006-2007), a member of the Criteria Working Group for the Roundtable on Sustainable Palm Oil (RSPO) (2005-2006) and Vice-Chairman of the MPOA Environment Working Committee (2004-2005).